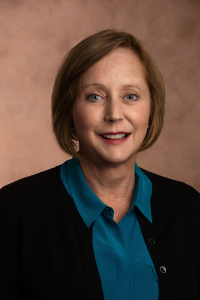 Joyce L. deJong, DO, became the founding chair of the Department of Pathology of Western Michigan University Homer Stryker M.D. School of Medicine (WMed) in 2014. The department has grown significantly in both numbers with a wide range of specialties, the Medical Examiner program has expanded from three counties to 12 counties, and the department has expanded to include the Division of Neuropathology, a Research Histology Laboratory, and the Toxicology Division.
Dr. deJong received her Bachelor of Science degree from Grand Valley State University and her Doctor of Osteopathy degree from Michigan State University. Dr. deJong completed her anatomic pathology residency through the Grand Rapids Area Medical Education Center and Michigan State University at Butterworth Hospital, Blodgett Memorial Medical Center, St. Mary's Hospital and Metropolitan Hospital. After completing her residency in pathology, and a fellowship in forensic pathology at Emory University in Atlanta, Georgia, Dr. deJong returned to Michigan, serving as the Medical Director of the Forensic Pathology Division of Sparrow Hospital in Lansing, Michigan. In this position, she served as the Medical Examiner/Deputy Medical Examiner for multiple counties in Michigan, overseeing a robust medical examiner and forensic pathology consultation service. While in Lansing, she was an associate clinical professor at MSU in both the College of Human Medicine and the College of Osteopathic Medicine.
Dr. deJong has extensive experience as a Medical Examiner, currently serving in this role for 12 counties in Michigan. She serves on the federal mass fatality team, and has deployed to mass disaster/fatality events over a dozen times during her career. She currently is the Chair of the Medical Examiner Working group, a team of multiple individuals focused on improving the Medical Examiner and Death Investigation process in Michigan. She has served as the President of the Michigan Association of Medical Examiners for multiple terms, and is a fellow in the National Association of Medical Examiners and the American Academy of Forensic Sciences.