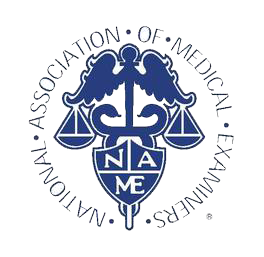 We received accreditation from the National Association of Medical Examiners (NAME) in January 2015. Our office will maintain this accreditation until January 2024.
The National Association of Medical Examiners (NAME) accreditation standards have been prepared and revised by NAME for the purpose of improving the quality of the medicolegal investigation of death in this country. Accreditation applies to offices and systems, not individual practitioners. The standards emphasize policies and procedures, not professional work product. The standards represent minimum standards for an adequate medicolegal system, not guidelines. NAME accreditation is an endorsement indicating that the office or system provides an adequate environment for a medical examiner in which to practice his or her profession and provides reasonable assurances that the office or system well serves its jurisdiction. It is the objective of NAME that the application of these standards will aid materially in developing and maintaining a high caliber of medicolegal investigation of death for the communities and jurisdictions in which they operate.
More information regarding inspection and accreditation can be located at www.TheNAME.org.